Motorbike Upholstery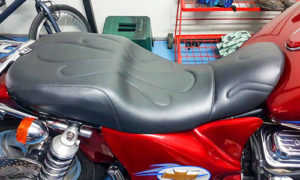 Nothing on your motorcycle is more important to overall comfort than your seat, so give your bike a comfort upgrade with a reworked seat.
Is your quad bike seat soaking up the water? Maybe your motorcycle seat is too uncomfortable, too high or maybe too low? Whatever your reasons, we'll make sure you get the most out of your seat, and therefore your bike!
Bring it to us and we can make you the saddle of your dreams.
Contact us now for a FREE QUOTE.
Paeroa
Proudly based in the Waikato